Checklist
social
media
competence
fields
An excerpt from my book Social Media Relations, updated in June 2014 and again in July 2017. You should note the checklist for social media competence fields when hiring junior staff in corporate communications. What should press spokespersons and PR consultants have in the future as far as social media are concerned?
Checklist: Social media competence fields
knowledge of the most important social networks and social media platforms on the web and the rules of the game
Overview of the current hypes in content marketing. Should companies design content in a "serious" way or should they design content in the same way as on click-bait portals? Reach in social media versus reputation. Do we want to compete with our brand vehemently. co just to produce social media reach?
overview of the topic-relevant communities that deal with topics relevant to their own organisation on the web, including forums or discussion groups
Knowledge in the area Online Reputation Management. How do you protect brands and people on the web and in social media? How can the relevance, dynamics and reach of escalations on social media platforms be assessed in a comprehensible way on the basis of defined processes and criteria?
Practice in communicating with bloggers, Twitter users, forum members
strong personal network to the relevant multipliers in these communities
knowledge of unwritten laws, taboos and mechanisms of action in the Social Web
a solid, trustworthy Google profile (personal brand)
Overview of content management systems and tools for blogs, Twitter and social media platforms
Practice in Content Management
knowledge of image processing
motion picture affinity
Basic knowledge of digital photography
excellent PC knowledge
Networking competence
Experience in event management
Conception practice
Textsecurity
Basic knowledge of crisis PR
Basic knowledge of copyright and personal rights
Basic knowledge of Marketing
knowledge of the tools for optimising paid reach campaigns in social networks, e. g. Facebook Ads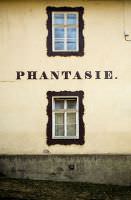 Fantasy is also a field of social media competence. (Photo: cydonna, photocase)
In addition, there are the requirements resulting from the classical public relations activities.
What's missing? What's exaggerated? What's too narrow-minded?
What should it look like, the ideal candidate for social media management in corporate communications?
I am looking forward to comments! Also, it's a pleasure to update this post in June 2014 and July 2017.
Do you have any questions about the social media competence fields?
We will be happy to help you in a personal conversation.